Have you ever had writer's block? If so, what do you do about it? I try to think of the most ridiculous idea for a story and then actually try to write as badly as I can.  That usually loosens things up.  Also Ray Bradbury once said that if you were stuck, you should have a man come into the room holding a gun.  So if I'm really stuck, in the very next scene I will do either that or something equally as shocking and see where it goes.  Most importantly, I promise myself that I don't have to use anything that I write.  I reserve the right to trash every single word.  But I have to write something.  Once you give yourself permission like that, you'd be surprised how much easier it is to get writing again.
How did you come up with the title? Finding Claire Fletcher was so obvious since the book was about a missing girl and a detective trying to actually find her.  I really tried naming it something else but nothing else that I could think of fit as well or sounded as good as Finding Claire Fletcher.  I think the 2 Fs in it helped.  Then as the story developed, it seemed more and more fitting since Claire is kind of searching for herself in the story as well.
Can you tell us about your main character? Well Claire Fletcher was a regular old 15 year old girl on her way to school one day when a man knocked her out and abducted her.  When we meet her, she's been his captive for ten years.  At this pint she has some freedom, but she is still very much under the control of her captor.  She has resigned herself to her ugly fate, but there is a part of her that still yearns for freedom.  That last little sliver of the old Claire Fletcher is buried deep though, and it's a tough journey for her to reach down and capture it.
Who designed the cover? Chad is one of the cover designers at my publisher, Sapphire Star Publishing.  I was lucky that my publisher asked me what I wanted and Chad was able to create it.  I wanted a girl or woman walking away, with a hazy kind of feel to it—you know, "is it her?  Is it not her?"  I also wanted an orange-red color and now I'm glad I asked for it because I can always find my book on a page full of thumbnail covers!  At first I wasn't crazy about the slightly out of focus ghostly letters but then my husband pointed out that they catch your eye precisely because they are out of focus.  Your eye wants to bring the letters into focus so it comes back for another look.  It's quite brilliant, really.
Who is your publisher? Sapphire Star Publishing
Why did you choose to write this particular book? Well I've been completely obsessed with the Jacob Wetterling case since I was eleven years old.  He was an eleven year old boy who was abducted at gunpoint in Minnesota in 1989.  His mother has never lost hope that he is alive and will one day return home.  Around that same time, a TV miniseries called "I Know My First Name Is Stephen" came out and it was about Stephen Stayner, an abducted boy who returned to his family after several years missing.  It was really very eye-opening for me, this idea that some of these kids were alive and out there somewhere. I just kept wondering what happens to them all those years that they're away from their families?  I always wondered what would it be like if you ran into someone and later found out they were a formerly abducted child?  That was the premise of my book, really.  So it grew out of an almost lifelong obsession with missing children and what happens to them if they're actually out there alive somewhere.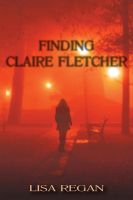 "Readers should drop what they're reading and pick up a copy of Finding Claire Fletcher."  -Gregg Olsen, New York Times bestselling author
"A powerful, emotionally-charged story by a debut author you'll want to keep an eye on!" -J.C. Martin, author of Oracle
Newly divorced and with his career in jeopardy, Detective Connor Parks takes solace in the arms of a beautiful woman he meets at a bar. The next morning, Claire Fletcher is gone, leaving nothing behind but an address and a decade-old mystery. The address leads to the Fletcher family home where Claire's siblings inform Connor that their fifteen-year-old sister was abducted from a city street ten years ago and is presumed dead.
During those ten years, Claire endured the cruel torture and depravity of the man who abducted her. Paralyzed by fear and too ashamed to return to her family, Claire is resigned to her life as Lynn, the identity her abductor forced upon her. Every time she attempts escape or betrays him in the smallest way, someone dies. Even now, her clandestine run-in with Connor Parks may have put his life at risk, as well as the lives of her family.
Connor is convinced that not only is Claire Fletcher alive, but that she is also the woman he met at the bar. Driven to see her again, he begins his own investigation, off the clock and without the police department's consent. He is determined to find her and unravel the mystery of her abduction and odd reemergence. But finding Claire Fletcher proves more dangerous than he anticipates. In fact, it may be deadly.
5-Stars! ". . .heart wrenching, suspense ridden, and eye opening."  -Amy Castellano, Chic Book Chick
5-Stars! "Her characters are strong and believable and they will fill you with emotions that will rock you." -My Cozie Corner Book Reviews
5- Stars! ". . .This was a fantastic novel and I am looking forward to many, many more in the future."  -Alex J. Clatch, Amazon Reviewer
Buy Now @ Amazon & Smashwords
Genre – Psychological Thriller / Crime Fiction
Rating – R
More details about the author & the book
Connect with Lisa Regan on Facebook & Twitter
Website http://www.lisaregan.com/